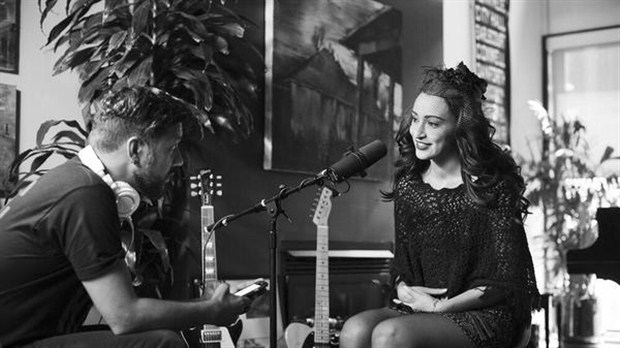 The Strombo Show r​an​ the gamut this Sunday night, keeping the spirit of radio alive by delivering the best records in the best order. It's a show for music lovers by music lovers, ranging over three hours of commercial-free music to honour both old and new.
George Stroumboulopoulos is joined by singer-songwriter Lindi Ortega ahead of her fourth album in four years, Faded Gloryville. We have a handful of exclusive premieres, performances of tracks from the album and a cover of the Bee Gees' "To Love Somebody," plus an intimate conversation that explores Ortega's transition from Toronto to Nashville.
Dan Deacon took the helm of his latest album, Gliss Riffer, which is entirely self-produced and self-recorded. While in the middle of the project, he was personally invited to open for Arcade Fire on tour. Deacon spent his momentum balanced between the stage and the green room, where he'd mix and arrange the album. On Sunday he performed in the House of Strombo's kitchen, ground broken by the great Mix Master Mike earlier in May.
Also, the Sheepdogs' frontman Ewan Currie professes his love for Neil Young.
​Lock it. Crank it. Join the collective!​
PLAYLIST
Henry Jackman, "Lemurian Star"
Bob Dylan & The Hawks, "Like A Rolling Stone (Live at Free Trade Hall)"
Sex Pistols, "Holidays In The Sun"
Breeders, "Cannonball"
Lindi Ortega, "Tell It Like It Is (Strombo Session)"
Joe Walsh, "Life's Been Good"
Weaves, "Tick"
The Drums, "Let's Go Surfing"
Krill, "Billy Madison Song"
Blondie, "In The Sun"
Big Boi, "Shutterbug"
Aretha Franklin, "Niki Hoeky"
Kool & The Gang, "Summer Madness"
Ice Cube, "It Was A Good Day"
Isley Brothers, "Footsteps In The Dark'
Isley Brothers, "That Lady'
Kendrick Lamar, "i"
Kendrick Lamar, "Alright"
Gil Scott-Heron, "Home Is Where The Hatred Is"
Neil Young & Crazy Horse, "Down By The River"
Bikini Kill, "Rebel Girl"
Jale, "All Ready"
Sublime, "Saw Red (Ft. Gwen Stefani)"
Lindi Ortega, "When You Ain't Home (Strombo Session)"
Radiohead, "Creep"
Tori Amos, "Crucify"
PJ Harvey, "Good Fortune"
Leonard Cohen, "Joan Of Arc"
Lindi Ortega, "To Love Somebody (Strombo Session)"
The Temptations, "Papa Was Rolling Stone"
Kate Tempest, "The Beigeness"
Bruce Springsteen & Tom Waits, "Jersey Girl (Live)"
Dan Deacon, "Learning To Relax"
Dan Deacon, "When I Was Done Dying (Strombo Session)"
Dan Deacon, "Sheathed Wings (Strombo Session)"
Harpers Bizzare, "Wichi Tai To"
Lauryn Hill, "Everything Is Everything"
Rolling Stones, "You Can't Always Get What You Want"
Doris Troy, "Just One Look"
The Faces, "Ooh La La"