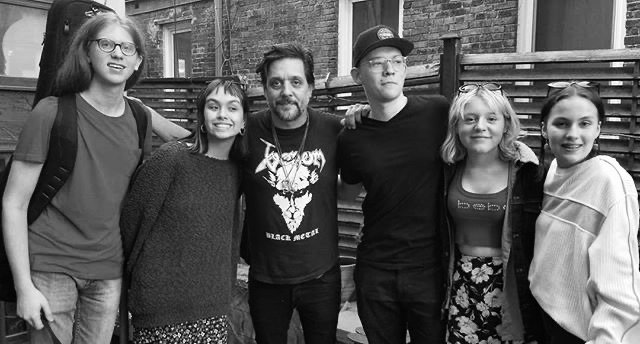 Moscow Apartment + Dan Mangan
Big time community on tonight's Strombo Show.We are back with the Magnificent 7, some classics and more #MusicWeLove
We are so grateful to the CBC for allowing us to takeover the airways. We are The Spirit Of Radio. 4 hours, commercial-free, algorithm-free, consultant-free mix, playing every Sunday night on CBC Music, starting at 8pm.
Tonight's guest playing in my living room are the future. Teens from a short streetcar ride away from the house of strombo have a band called Moscow Apartment. If you haven't yet heard the voices of Brighid Fry, Pascale Padilla you will love them. 
Tonight in the stack, we have: The Meditations, U2, Chasity, Colter Wall, Kazu, Nine Inch Nails, Steve Miller Band, Janis Joplin, Solomon Burke, KMFDM, Slayer, Rome Streetz, Von Pea, Helena Deland, Looper, Mogwai, Ottis Redding of course, Tom Waits some Lynyrd Skynyrd a few tracks from Ian Blurton, Black Mountain, Black Mountain, Metallica, John Waite, Massive Attack, Bonnie "Prince" Billy and MORE!
We are the Spirit Of Radio. The Strombo Show, Sunday 8pm on CBC Music.
Playlist
Lee Scratch Perry / The Upsetters, "No Peace"
U2, "I Will Follow"
U2, "Magnificent"
Chastity, "Sun Poisoning"
Colter Wall, "Happy Reunion"
KAZU, "Salty "
KAZU, "Name and Age"
Nine Inch Nails, "Something I can Never Have"
Steve Miller Band, "The Joker "
Janis Joplin, "A Woman Left Lonely"
Solomon Burke, "The Judgement"
The Cure, "Just Like Heaven "
Gal Gracen, "Montana"
Kiefer, "Golden"
L Con, "Believe "
Electric Light Orchestra, "Xanadu"
Carl Wayne, "Superstar"
KMFDM, "Megalomaniac "
Slayer, "Angel of Death"
KMFDM, "Godlike"
KMFDM, "Paradise"
Rome Streetz , "Voodoo"
Free the Frail, "JPEGMAFIA"
Von Pea, "Pity Party "
Helena Deland, "Two Queries"
Holy Morning, "Tamara Sandor"
Looper, "Burning Flies"
Mogwai, "Kids Will be Skeletons"
Mogwai, "I know you are but what am I"
Otis Redding, "I've Been Loving you too Long"
Wilson Pickett, "Hey Jude "
Jonney Thunders, "Like A Rolling Stone"
The Velvet Underground, "I'm Set Free"
Tom Waits, "Come on up to the house"
Lynyrd Skynyrd, "Free Bird"
The Clash, "The Magnificent Dance"
Ian Burden, "Kick Out the Lights"
Ian Burden, "Night of the Black Goat"
Ian Burden, "Days Will Remain"
Black Mountain, "Mothers of The Sun"
Lightning Dust, "A Party Picture"
Black Mountain, "Horns Arising "
Metallica, "Am I evil"
Moscow Apartment, ""
Moscow Apartment, "Caroline"
Moscow Apartment, "Halfway"
Moscow Apartment, "Annie"
Moscow Apartment, "Orange"
Ramones, "beat on the brat"
DUMP HIM, "What's Your Deal With) Kim?"
Puzzlehead, "White Knuckles"
Desperation, "No Brainer"
Operation Ivy, "Knowledge "
The Sorority, "Switch "
The Legendary Pink Dots, "Junkyard"
John Waite, "Missing You "
Massive Attack, "Angel"
Safia Nolin, "Cute Without the 'e'"
Low, "Dancing and Blood"
The Way, "Bonnie Prince Billy "
Colleen, "I'll Read you a story"