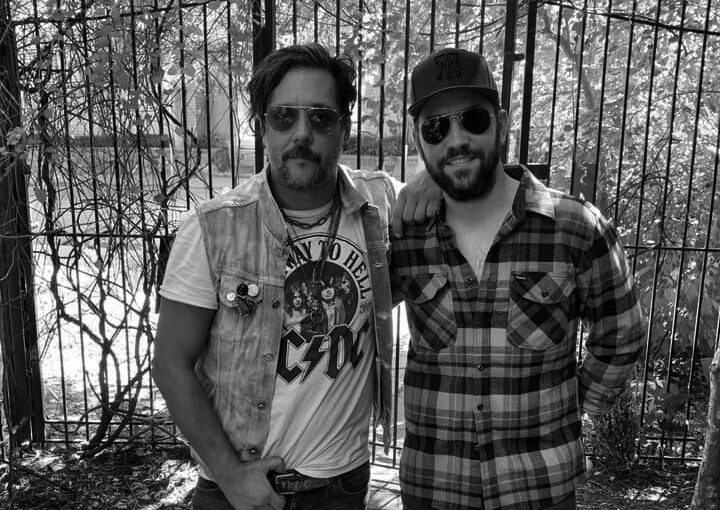 Justin Rutledge, Dennis Lyxzen + Refused
Here's your musical companion for the week.  The key is that this is a commercial-free, algorithm-free, consultant-free show for music lovers!
We talk beautiful songs, addiction and transformation with the wonderful songwriter Justin Rutledge. He comes by my house with his guitar and plays magically. Plus the punk and hardcore legend Dennis Lyxzén from Refused joins us to talk War Music.
We run the table with music from: White Zombie, Pleasure Seekers, The Chemical Brothers, Moon Duo, Jay Som, Dominique Fils-Amie, G4 JAG, Arcade Fire, Nirvana, City And Colour, Courtney Love and Hole, Dolly Parton, Red Hot Chili Peppers, Rheostatics, Tom Waits, Amigo The Devil, Refused and more.
Plus we are back with a late night snack of Mac N' Cheese with Bob Mackowycz.
Gather enough of the beautiful, empowered and the strong things to feed that good wolf. We are the Spirit Of Radio. The Strombo Show,
Sunday 8pm
on CBC Music
Playlist
White Zombie, "Grindhouse (A Go-Go)"
White Zombie, "Thunder Kiss '65"
Betty Boop
The Pleasure Seekers, "What A Way To Die"
Chemical Brothers, "K+D+B"
The Clash, "The Magnificent Seven"
Moon Duo, "Stars Are The Light"
Wu Tang Clan, "Bring Da Ruckus (Instrumental)"
Jay Som, " Peace Out"
Dominique Fils-Aime, "Constructive Interference"
G4 Jag, "By Any Means Necessary "
Mama We're All Crazy Now"
Japan, "Sometimes I Feel So Low"
Hiroshi Yoshimura, "Water Copy Water Copy"
George Sibanda, "Gijima Mfana "
Jane Siberry, "Everything "
John Frusciante, "Unf"
Arcade Fire, "Reflektor "
Justin Rutledge, "Captive"
Don Williams, "Amanda"
Nirvana, "All Apologies"
EPMD, "For My People"
Justin Rutledge Performance"
Kathleen Edwards, "Maria"
City & Colour, "Strangers"
City & Colour, "Astronaut"
L7, "Shitlist"
Bratmobile, "Panik"
Slant 6, "Are You Human"
Hole, "Rockstar"
Blondie, "Hanging On The Telephone"
The End (From Apocalypse Now)"
Nancy Williams, "How Glad I Am"
Claudette Thomas, "Roses Are Red My Love"
Encores III, "Wasserklavier"
Water, "Transition 1"
Tom Waits, "The Fall Of Troy"
Radiohead, "The Bends"
Blind Boy Fuller, "Meat Shakin' Woman"
Dolly Parton, "9 to 5"
Dolly Parton, "I Will Always Love You"
Detroit Emeralds, "You're Getting To Smart"
Red Hot Chilli Peppers, "Under The Bridge"
Estyr, "Human Alchemy"
Rheostatics, "Rearview"
Hawksley Workman, "Battlefords "
Amigo & The Devil, "Cocaine & Abel"
Amigo & The Devil, "First Day Of The End Of My Life"
Mikal Cronin, "Show Me"
Just Mustard, "Frank"
MSTKRFT, "Dorsia"
Ritchie Hawtin, "Core Resonance (Close Cobined)"
KFMDM, "No Regret"
Refused, "Blood Red"
Refused, "Economy Of Death"
Refused, "New Noise"
Rod Stewart, "Forever Young "
Mazzy Star, "Fade Into You"
Michael Giacchino, "Change Of Plans"