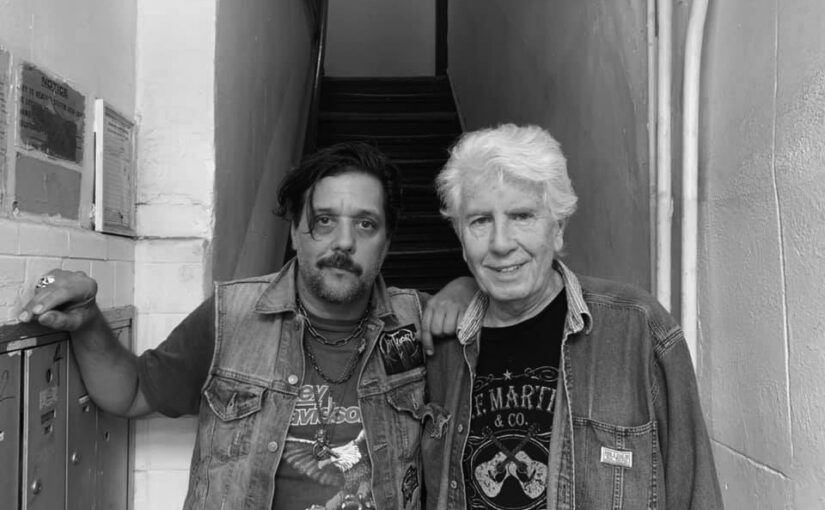 Graham Nash
Hello there. What a show we have for you. A wicked mix of songs from Bjork to Billy Joel, Twisted Sister to Dirty Projectors, Tom Waits, Sampa The Great, brand new AND classic Mudhoney, Ms. Lauryn Hill and more. The record of the week comes from The New Pornographers, "In The Morse Code of Break Lights" and the beautiful voice of Audrey Hepburn
Plus! The legendary Graham Nash from The Hollies, CSN(Y)
Bif Naked pops on and we check in with Dustin from Hunting to hear more about their incredible new record, Gold Day.
It's a four hour; commercial free, algorithm free music experience.
Listen and share the Spirit of Radio, The Strombo Show.
Playlist
Twisted Sister, "I Wanna Rock"
Miss June, "I Don't Wanna Be Your Dog"
Sudan Archives, "Confessions"
Sir, "Hair Down"
Fly Pan Am, "Distance Dealer"
Dirty Projectors + Bjork, "When The World Comes To An End"
Love, "The Red Telephone"
Bob Dylan, "A Hard Rain's Gonna Fall"
Vincent Gallo, "Was"
PJ HArvey, "Angelene"
Kool and The Gang, "Fruitman"
Moondog, "Avenue of the Americas"
Ice Cream, "Modern Life"
Birdsacrosswater, "New Weather"
Crosby, Stills & Nash, "Pre-Road Downs"
Graham Nash, "Cracks in the city"
Neil Young, "Let's Impeach the president"
Graham Nash and David Crosby, "Immigration Man"
Bruck Cockburn, "Blind Willie"
Crosby, Stills & Nash , "Ohio"
The New Pornographers, "You'll Need A New Backseat Driver"
The New Pornographers, "The Surprise Knock"
The New Pornographers, "Falling Down The Stairs of Your Smile"
Ada Lea, "The Dancer"
Billy Joel, "It's Still Rock n Roll to Me"
Peter Gabriel, "Strawberry Fields Forever"
Bill Evans, "Like Someone In Love"
Cyndi Lauper, "Time After Time"
Tom Waits, "Phantom 309"
Wilco, "Hell is Chrome"
Hunting, "Gold Day (Whatever You Need)
Gong Gong Gong III, "Notes Underground"
Tropical Fuck Storm, "Paradise"
MudHoney, " Suck You Dry"
Mudhoney, "One Bad Actor"
P-Lo, "Hell Fun"
Sampa The Great, "Freedom"
Leather Jacuzzi, "TFTTP"
Prince, "The Glamorous Life Demo"
Sinead O'Connor, "Troy"
Lauryn Hill, "Everything is everything"
Tom'E, "Sol"
Ras G, "Sign Me Up"
Burning Spear, "Swell headed"
Dag Nasty, "When I Move"
Colleen, "Babies"
Dead Milkmen, "Bitchin Camaro"
Sonic Youth, "Sympathy For The Strawberry"
Stuck On Planet Earth, "Rising"
Woody Guthrie, "Jesus Christ"
Mouse On MArs, "Chromantic"
Choking Victim, "In My Grave"
Audrey Hepbourne, "Moon River"
A Silver Mt. Zion, "13 Angels Standing Guard 'round the side of your bed"