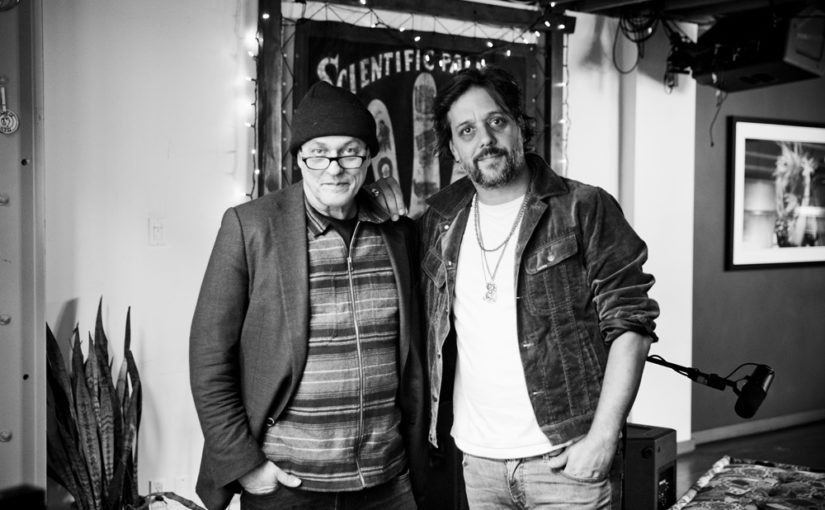 Charlotte Cornfield + Marc Ribot
Sunday night is for music lovers.
Charlotte Cornfield writes songs that bring Degrassi tears, according to Kevin Drew. She is one of the best songwriters we got, armed with her new collection of songs that she honed in on over the last few years by collaborating with Grammy-winning engineer Shawn Everett, Leif Vollebekk and Broken Social Scene's Charles Spearin and Drew. Her name might feel familiar, as she has graciously visited the House to perform notable covers for both our HIP30 and JONI75 Celebration episodes. Through the acoustic reveal of several songs from her latest The Shape Of Your Name, Cornfield navigates her life in conversation with Strombo.
Marc Ribot has some of the most sought after hands, his guitar work has been the backbone of musicians that include Allen Ginsburg, Allen Toussaint, Diana Krall, Elton John, Elvis Costello, Marianne Faithful, Robert Plant, Solomon Burke, Steve Earle and perhaps most frequently, Tom Waits. Aside from his collaborations, Ribot has over 25-album to his own name that ranges the gamut from sounds of pioneering jazz with Albert Ayler to fusion alongside the Cuban son of Arsenio Rodriguez to his avant post-rock trio, Ceramic Dog. St. Vincent praises him as her favourite guitarist, noting that he can "make a guitar sound like it is being strangled or really make it sing, sometimes both in the same breath." His most recent project voices outrage as a response to the current times through Songs Of Resistance 1942-2018 and in an incredibly rare solo acoustic session, Ribot brings his stories to dissect song, fight and his world.
And if that weren't enough, Strombo premieres new sounds from Saxsyndrum amidst the four hours of commercial free, algorithm free musical experience.
Tell your friends that the Spirit Of Radio lives on.
Playlist
Ennio Morricone, "The Good, The Bad And The Ugly (Titles)"
Marty Robbins, "El Paso"
Nancy Sinatra, "These Boots Are Made For Walking"
Ennio Morricone, "L'Estasi Dell'Oro [Bandini Remix]"
Cadence Weapon, "Superhero (Ft. DJ Shub)"
Anderson Paak, "King James"
Brandy, "I Wanna Be Down"
Outkast, "Prototype"
Charlotte Cornfield, "Morning Moon (The Tragically Hip Cover) (Strombo Sessions)"
Charlotte Cornfield, "Silver Civic (Strombo Sessions)"
Charlotte Cornfield, "June (Strombo Sessions)"
Charlotte Cornfield, "Storm Clouds (Strombo Sessions)"
Charlotte Cornfield, "Andrew"
Strike Anywhere, "Earthbound"
Pussy Riot, "Straight Outta Vagina"
Illuminati Hotties, "I Wanna Keep Yr Dog"
Helado Negro, "Fantasma Vaga"
Leathers, "Phantom Heart"
Dag Nasty, "When I Move"
Descendents, "I'm The One"
Minor Threat, "Salad Days"
Green Day, "Jesus Of Suburbia"
Easy All Stars, "No Surprises (Radiohead Cover)"
Fela Kuti & Africa 70, "Let's Start (Ft. Ginger Baker)"
FOALS, "Cafe D'Athens"
Shad, "I'll Never Understand (Ft. Bernadette Kabango)"
Mr. Bungle, "Vanity Fair"
Yves Jarvis, "Nothing New"
Yves Jarvis, "Constant Change"
Yves Jarvis, "Out Of The Blue, Into Both Hands"
Tom Waits, "Just Another Sucker On The Vine"
Tom Waits, "House Where Nobody Lives"
Marc Ribot, "Bella Ciao (Strombo Sessions)"
Marc Ribot, "The Big Fool (Strombo Sessions)"
Marc Ribot, "Srinivas (Strombo Sessions)"
The New Pornographers, "Adventures In Solitude"
Saxsyndrum, "Up To You"
Black Mountain, "Future Shade"
Grammacks, "Pastime Paradise"
Steve Monite, "Only You"
Public Enemy, "By The Time I Get To Arizona"
Jean-Michel Blais, "roses"
U2, "MLK"
Nina Simone, "Why Him (Live, 07 April 1968)"
Janis Joplin and the Big Brother Holding Company, "Summertime (Live, 07 April 1968 at Generation Club, NYC)"
Joni Mitchell, "Sisotowbell Lane (Live, 07 April 1968 at Generation Club, NYC)"
Buddy Guy, "Stormy Monday (Live, 07 April 1968 at Generation Club, NYC)"
Buddy Guy, Jimi Hendrix & Hugh McCracken, "Jam (Live, 07 April 1968 at Generation Club, NYC)"
Pink Floyd, "Comfortably Numb"
AC/DC, "Ride On"