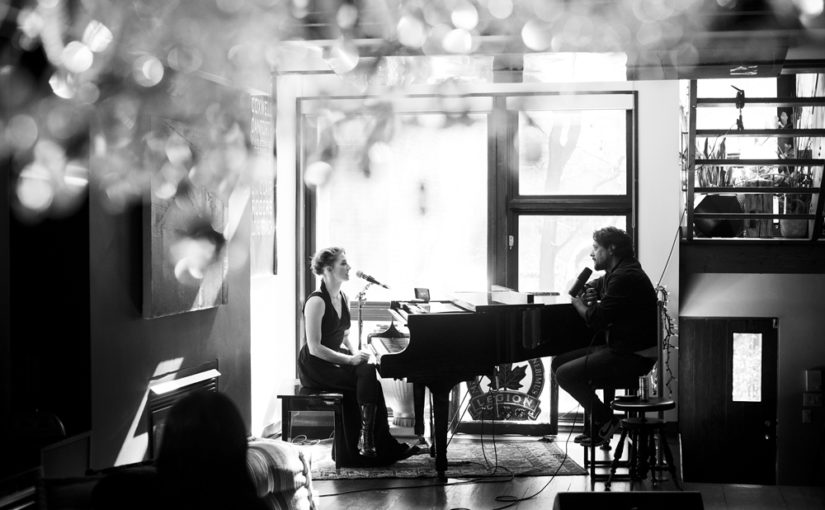 Amanda Palmer, Donna Grantis, Ron Dalton + Sharon + Bram
Sunday night is for the Purple One.
Amanda Palmer has said of her latest album and art-book, There Will Be No Intermission: "These songs were exercises in survival, loss and death kept happening in real-time, and these songs became my therapeutic arsenal of tools for making sense of it all." In a thorough conversation with her old friend Strombo, she unpacks the frameworks of her music, theatre, modern community, The Dresdon Dolls, crowd-funding, her conversation with David Bowie, mental wellness, tough life choices and performs several songs from the ivories in the House Of Strombo.
Ron Dalton is the co-president of Innocence Canada and was once found guilty of a crime that he did not commit. When his wife choked to death on a piece of cereal, he was wrongly convicted of second degree murder, missed her funeral while waiting to appear in court and after eight years in prison, was cleared of his name. He now fights to help others not suffer the same fate, while also aiding musicians along the way. He'll endeavour into his story and nod toward the musical references, songs from Bob Dylan's "Hurricane" to The Tragically Hip's "Wheat Kings," that share the message of the wrongly convicted.
Sharon + Bram are a Canadian institution in the world of family entertainment for over 40-years. Their extensive creation of albums, song-books and television has earned them three JUNO awards, the Order Of Canada and as Goodwill Ambassadors for UNICEF in North and South America, they received the Danny Kaye Humanitarian Award. Aside from the mantle, they influenced a generation that includes Damian Abraham of Fucked Up, as his first concert was Sharon, Lois + Bram. He brings his kids and performs a few songs with his alma-mater. There are a handful of additional guests that come together for sing-alongs, including Feltworth, Peter Mansbridge and Zaki Ibrahim. Skinnamarink, indeed.
We'll honour the third anniversary of Prince's passing through his songs and conversation with one of his closest collaborators in the last chapter of his life, the mighty Donna Grantis. She was the co-lead guitarist in his 3RDEYEGIRL project, a member of his legendary New Power Generation, which took her from Montreux Jazz Festival to the White House, and she has recently released her debut solo record, DIAMONDS & DYNAMITE. Dialling in from Minneapolis, Grantis remembers the origins of her relationship with Prince, his ping-pong skills, collaborative spirit and beyond.
Strombo will also premiere new music from Def Con Sound System, Dub Trio and Tanika Charles.
Tell your friends that the Spirit Of Radio lives on.
Playlist
Hank Williams Sr., "No No Joe"
The Small Faces, "Itchycoo Park"
Tanika Charles, "Remember To Remember"
Def Con Sound System, "Fools Gold"
Milk & Bone, "Ride Or Die"
Dub Trio, "Forget my Name (Ft. Meshell Ndegeocello)"
Jenny Lewis, "Red Bull And Hennessy"
Sharon & Bram, "She'll Be Coming Round The Mountain (Strombo Sessions)"
Sharon & Bram, "The Colour Song (Strombo Sessions)"
Sharon & Bram, "One Elephant (Ft. Peter Mansbridge) (Strombo Sessions)"
Sharon & Bram, "Peanut Butter And Jelly (Ft. Damian Abraham of Fucked Up) (Strombo Sessions)"
Sharon & Bram, "The Colour Song (Ft. Zaki Ibrahim) (Strombo Sessions)"
Sharon & Bram, "Skinnamarink (Ft. Damian Abraham of Fucked Up, Feltworth, Peter Mansbridge & Zaki Ibrahim) (Strombo Sessions)"
Tom Petty, "Breakdown"
The Aggrovators, "A Dancing Version"
Fugazi, "Waiting Room"
Dresden Dolls, "Girl Anachronism"
Amanda Palmer, "Drowning in The Sound"
Amanda Palmer, "Oasis (Strombo Sessions)"
Amanda Palmer, "Voicemail For Jill (Strombo Sessions)"
Amanda Palmer, "Death Thing (Strombo Sessions)"
KRS-ONE, "Sound Of Da Police"
Brand Nubian, "Step To The Rear"
Why-G, "Wauce"
Tom Waits, "Raised Right Men"
Nick Cave, "Avalanche"
Nirvana, "Stay Away"
Jimi Hendrix, "Have You Ever Been Experienced?"
Prince, "Let's Go Crazy"
Prince & 3RDEYEGIRL, "PLECTRUMELECTRUM"
Prince, "Purple Rain"
Donna Grantis, "Violetta (Ft. Mike McCready)"
Prince, "Screwdriver"
Robin Hatch, "The Serpent"
Akua, "Heaven"
Gaele, "La Peur"
Romeofoxtrott, "Memories"
Steve Earle, "L.A. Freeway"
The Tragically Hip, "Wheat Kings"
Johnny Cash, "Folsom Prison Blues"
Merle Haggard, "Sing Me Back Home"
Dead Tired, "Can't Shut It Off"
Martha Wainwright, "Comin' Tonight"
Kraftwerk, "Mitternacht"