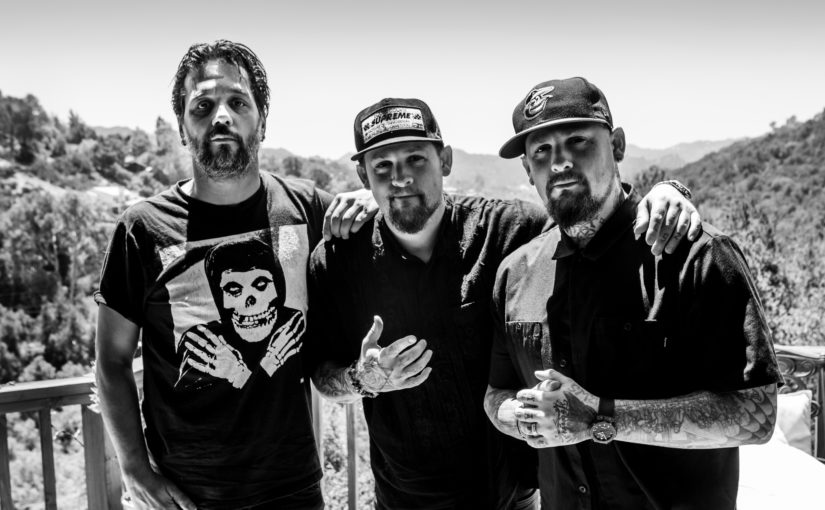 AHI, Good Charlotte + The Lonely Parade
We roll-on this Sunday night, opening the doors of the House of Strombo for you and yours.
Good Charlotte are two decades-in and since they provided a soundtrack for a generation, they've launched a clothing company, purchased Graham Nash's old studio, started their own families and launched MDDN to lead careers of acts like Jessie J and 5 Seconds Of Summer. Both Benji and Joel Madden join George to jump into their pit of creativity behind 'Generation RX' and everything that came before.
The Lonely Parade return to the program with distortion to herald their latest album, 'The Pits' and cover some Wolf Parade. (Get it?) AHI paints the walls with his soulful embrace, bringing songs from his debut album – 'We Made It Through the Wreckage'.
We'll debut new music from Moscow Apartment and there'll be visits from our friends Dan Mangan, Haviah Mighty, Megative, Roxanne Potvin and music therapist, Chrissy Pearson.
Worth noting: George Stroumboulopoulos Music Therapy Scholarship has applications open until October 12: https://conta.cc/2D3uNbQ
Tell all your friends that the Spirit of Radio is ready to rumble.
Lock it. Crank It. Join the collective.
Magnificent 7
7

Christine And The Queens, "Comme si on s'aimait"

6

Book x Haviah Mighty, "Vamonos"

5

HYUKOH, "Graduation"

4

The Lonely Parade, "Weekends (Strombo Sessions)"

3

The Dirty Nil, "Pain Of Infinity"

2

Moscow Apartment, "Orange"

1

Prince, "17 Days (Piano And Microphone, 1983)"
Playlist
Patti Smith, "Piss Factory"
Ike and Tina Turner, "Bold Soul Sister"
Christine And The Queens, "Comme si on s'aimait"
Book x Haviah Mighty, "Vamonos"
Black Sheep, "The Choice Is Yours"
Radiohead, "The Bends"
Sister Nancy, "Bam Bam"
Buddy Johnson, "Did You See Jackie Robinson Hit That Ball?"
HYUKOH, "Graduation"
The Lonely Parade, "Weekends (Strombo Sessions)"
The Lonely Parade, "New Roommate (Strombo Sessions)"
The Lonely Parade, "Cloud Shadow On The Mountain (Wolf Parade Cover) (Strombo Sessions)"
The Dirty Nil, "Pain Of Infinity"
Fugazi, "Merchandise"
Bee Gees, "How Deep Is Your Love?"
Muddy Waters, "Mad Love (I Want You To Love Me)"
Little Walter, "Juke"
Elisapie, "Wolves Don't Live By The Rules (Willie Thrasher Cover)"
Willie Thrasher, "Budget Shoes (Gord Downie + The Sadies Cover)"
Gesaffelstein, "OPR"
Ryan Hemsworth, "Think About U"
Good Charlotte, "The Anthem"
Good Charlotte, "Shadowboxer"
Good Charlotte, "Actual Pain"
Hazen Street, "Fool The World"
Good Charlotte, "I Just Wanna Live"
A Flock Of Seagulls, "Space Age Love Song"
Moscow Apartment, "Orange"
Richard Swift, "Babylon"
Marc Ribot + Tom Waits, "Bella Ciao"
The Clash, "Straight To Hell"
M.I.A., "Paper Planes"
Martha Wainwright, "Around The Bend'
AHI, "Ol Sweet Day (Strombo Sessions)"
Mavis Staples, "Good To Me"
AHI, "The Architect's Hand (Strombo Sessions)"
Nancy And Lee, "Summer Wine"
Ennio Morricone, "L'Estasi Dell'Oro (Bandini Remix)"
Hubert Lenoir, "Fille de personne I"
Hubert Lenoir, "Fille de personne II"
Hubert Lenoir, "Fille de personne III"
Joni Mitchell, "Woodstock (Orchestral Version)"
The Beatles, "What's The New Mary Jane"
Dan Mangan, "Troubled Mind"
The Constantines, "Trans Canada"
Politikill Incorrect, "Anti-Choice Assholes"
S.H.I.T., "Human Kindness"
Spiritualized, "I'm Your Man"
Al Jolson, "Anniversary Waltz"
Soundgarden, "Black Hole Sun"
Nirvana, "Come As You Are"
Prince, "17 Days (Piano And Microphone, 1983)"
Prince, "Purple Rain (Piano And Microphone, 1983)"
U2, "October"