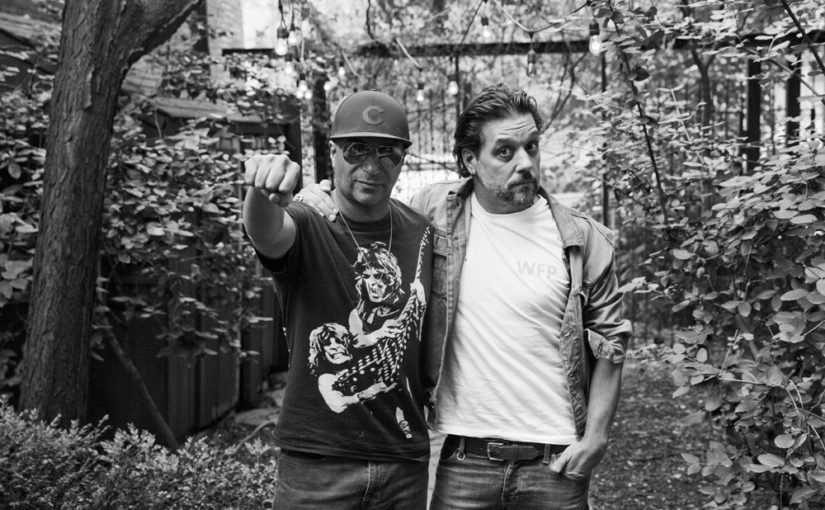 Kim Coates, La Force + Tom Morello
The Strombo Show's four-hours of algorithm free musical exploration is here for you this Sunday evening.
Tom Morello brings the rage for a retrospective exploration of then and now and his latest project, "The Atlas Underground." With George, he digs into preparing his sonic conspiracy project in quiet, the journey to create a new genre of rock'n'roll, the modern political turmoil, learning to appreciate the Eagles, his EDM crush, curating the project with Marcus Mumford, Vic Mensa, Wu-Tang, K.Flay, the Rage Against The Machine return performance at Coachella, coaching his children's little league team, the first song he learned to play, creating a live show with Roger Waters' artistic director, believing that Rage Against The Machine should exist, the legacy of Chris Cornell, reading "The History of America in Ten Strikes", the dismantling of labour unions, Kavanaugh, the #MeToo movement, his 95-year-old mother's friendship with Bono and more.
La Force is the musical brainchild of Ariel Engle from Broken Social Scene and AroarA. To commemorate the nocturnal electronic sounds of her self-titled debut, she brings her songs to the House and is joined by her friend Snowblink to cover an Antony and the Johnsons standard. Let us not forget Martha Wainwright's delivery of her Snowblink cover on last week's episode. The circle continues.
Kim Coates has returned with the second season of Bad Blood, so it only seemed fitting that Kim and George went in on the history of the Montreal drug trafficking business that the show was inspired by. In conversation, they explore his career, Sons Of Anarchy, choices, mistakes and the advice he received from Nicolas Cage on his first film.
There'll also be appearances from our friends in Hippo Campus and Gladys Kyotungire to talk about the upcoming World Food Day and what you can do with the World Food Programme.
Magnificent 7
7

Lady Leshurr, "Black Madonna"

6

Laura Gibson, "Tenderness"

5

Niña Dioz, "Tambalea (Ft. Lido Pimienta and Ceci Bastida)"

4

Ghostface Killah, "Majestic Accolades (Ft. Planet Asia & Hus KingPin)"

3

Ghostface Killah, "Watch 'Em Holla (Ft. Raekwon, Masta Killa & Cappadonna)"

2

Hippo Campus, "Bambi"

1

The Crystal Method, "The Raze"
Playlist
Audioslave, "Cochise"
KISS, "Detroit Rock City"
Lady Leshurr, "Black Madonna"
Laura Gibson, "Tenderness"
Niña Dioz, "Tambalea (Ft. Lido Pimienta and Ceci Bastida)"
Ghostface Killah, "Majestic Accolades (Ft. Planet Asia & Hus KingPin)"
Ghostface Killah, "Watch 'Em Holla (Ft. Raekwon, Masta Killa & Cappadonna)"
The Upsetters, "Cloak & Dagger"
Donna Summer, "I Feel Love"
La Force, "The Tide"
La Force, "You Amaze Me (Strombo Sessions)"
La Force, "Lucky One (Strombo Sessions)"
La Force, "Another World (Antony and the Johnsons Cover) (Strombo Sessions)"
Johnny Cash, "Bird On The Wire"
Bright Eyes, "First Day Of My Life"
Spiritualized, "The Morning After"
Petite Noir, "RESPECT"
Hippo Campus, "Bambi"
BRONCHO, "Boys Got To Go"
Awkwafina, "Cakewalk"
Haviah Mighty, "Westside"
The Crystal Method, "The Raze"
Cyndi Lauper, "True Colours"
2Pac, "All Eyez On Me"
Roy Orbison, "Crying"
Rage Against The Machine, "Wake Up"
The Atlas Underground, "Battle Sirens (Ft. Knife Party)"
The Nightwatchman, "Whatever It Takes"
Rage Against The Machine, "No Shelter"
Audioslave, "Doesn't Remind Me"
Deep Purple, "Smoke On The Water"
Bruce Springsteen, "Jersey Girl"
Joan Baez, "Joe Hill"
Nelson Bandela, "Show And Tell"
The Sorority, "West End"
CASEY MQ, "Miss Dalloway"
AC/DC, "Long Way To The Top"
The Doors, "Riders On The Storm"
The Animals, "The House Of The Rising Sun"
Festo Mburawikyo, "Ayahangirl Abakozi (Nyoro)"
Zedekia Ochwo, "Tich Mabere (Dhola Tribe)"
U2, "The Ocean"
Captain Beefheart, "Skeleton Makes Good"
Behemoth, "Wolves ov Siberia"
Godspeed You! Black Emperor, "Their Helicopters Sing"
Martha Wainwright, "Francis (Strombo Sessions)"
Coeur de pirate, "Wicked Game (Chris Isaak Cover) (Strombo Sessions)"
Kid Koala, "Moon River (Strombo Sessions)"