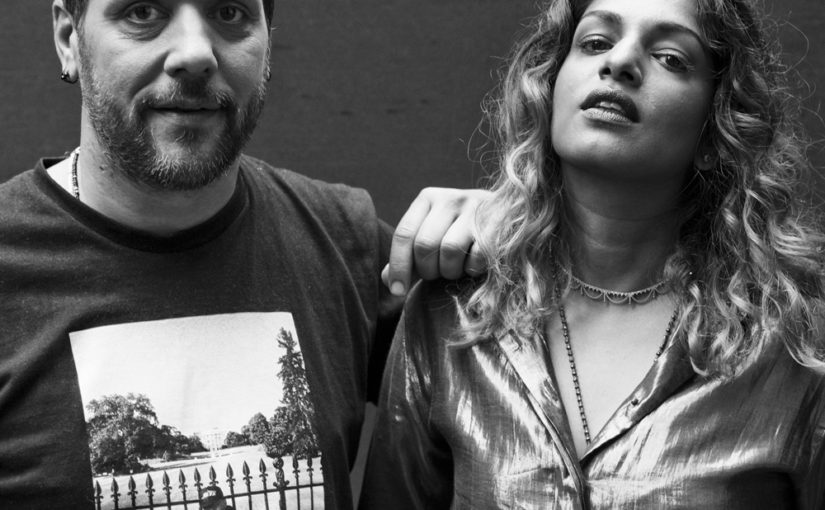 Ian Campeau, Martha Wainwright, M.I.A. + Rufus Wainwright
The Strombo Show's four-hours of algorithm free musical exploration is here for you this Sunday evening.
M.I.A. has long been one of the most inventive musical forces, her platform for both political and personal advocation. When she first arrived into the pop conversation with 'Arular' years ago, she sat down with George. Over a decade later, she joins us at the kitchen table for a thorough conversation about everything that happened before and since. Revolution and activism are in Maya Arulpragasam's blood and she'll dive into that mix of music and politics, celebrating the release of her documentary – 'MANTANGI / MAYA / M.I.A.'
Martha Wainwright is undeniable. In her House of Strombo session, she strums songs from throughout her career, discovers new meaning in her old lyrics, remembers the first time that she shared songs with her mother Kate McGarrigle, calls an audible at the piano and if that weren't enough, Martha generously covers Snowblink. She continues to bring her show on the road this month, returning to Quebec in December.
If one Wainwright weren't enough, Rufus Wainwright will also be visiting the House to perform some of his earliest songs. He is about to deliver his sophomore opera, history's forgotten gay love story Hadrian at the Canadian Opera Company this month. In conversation and solo performance, Wainwright reveals the core of his artistry.
Ian Campeau returned to the House with his backpack of knowledge strapped. With George, he explains the process and power behind language, life after A Tribe Called Red, government conditions — all the while, sharing a playlist of songs by some of the strongest Indigenous voices.
There'll also be appearances from our friends Jim Bryson, KONGOS and Moe Berg from The Pursuit of Happiness. 
Tell all your friends that the Spirit of Radio is ready to rumble.
Magnificent 7
7

FOXTROTT, "Better With You"

6

Joe Strummer & Electric Dog House, "Generations"

5

Marissa Nadler, "Blue Vapour"

4

BadBadNotGood, "Tried"

3

RYAN Playground, "Worryland"

2

Jim Bryson, "Cut Bait"

1

Adrianne Lenker, "Cradle"
Playlist
M.I.A., "Space"
ESG, "UFO"
FOXTROTT, "Better With You"
Joe Strummer & Electric Dog House, "Generations"
Keith Hudson, "True True To My Heart"
Marissa Nadler, "Blue Vapour"
Hole, "Rock Star"
Nirvana, "You Know You're Right"
Anna & Kate McGarrigle, "Hard Times"
Martha Wainwright, "So Many Friends (Strombo Sessions)"
Martha Wainwright, "How Now (SnowBlink Cover) (Strombo Sessions)"
Martha Wainwright, "So Down (Strombo Sessions)"
Martha Wainwright, "Francis (Strombo Sessions)"
BadBadNotGood, "Tried (Ft. Little Dragon)"
Rufus Wainwright, "In My Arms (Strombo Sessions)"
Rufus Wainwright, "Grey Gardens (Strombo Sessions)"
Rufus Wainwright, "Poses (Strombo Sessions)"
Sex Pistols, "Pretty Vacant"
The Pursuit Of Happiness, "Hard To Laugh"
Betty Davis, "He Was A Big Freak"
GG Allin, "No Limits No Laws (Spoken)"
Cutty Ranks, "Limb By Limb"
Derrick Morgan, "Blazing Fire"
RYAN Playground, "Worryland"
Jim Bryson, "Cut Bait"
Adrianne Lenker, "Cradle"
Guns N' Roses, "Paradise City"
Miles Davis, "Freedom Jazz Dance"
Tom Waits, "Way Down In The Hole"
M.I.A., "Way Down In The Hole (Ft. Blaqstarr)"
M.I.A., "Xxxo"
M.I.A., "Bamboo Banga"
M.I.A., "Go Off"
Bright World, "Tough Drug"
Sureilla, "It's All Your Fault"
Ripcordz, "Girls In The Pit"
Propagandhi, "Comply / Resist"
Leonard Sumner, "The Ceremony"
A Tribe Called Red, "The Virus (Ft. Chippewa Travellers & Saul Williams)"
Buffy Sainte-Marie, "Starwalker"
Iskwe, "Sometimes"
Iskwe, "38 Years Old (The Tragically Hip Cover) (Strombo Sessions)"
Queensryche, "Silent Lucidity"
Broken Social Scene, "Gonna Get Better"
Wilco, "Radio Cure"
Massive Attack, "Dissolved Girl"
Ray Montford, "Share My Sky"