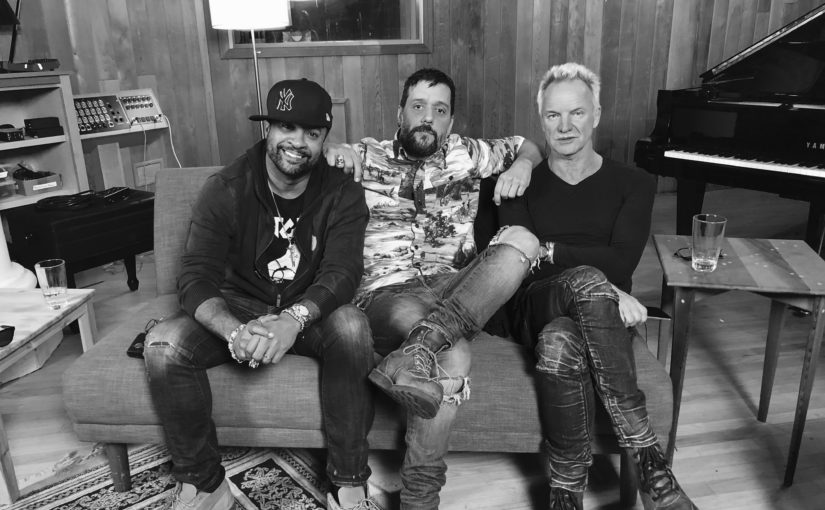 Fred Penner, Sting + Shaggy
Fred Penner has been dubbed the King of Positivity, known for his work crafting minds through his long-running television hub Fred Penner's Place. Two decades since he retired from the electronic babysitter – he's earned the Order Of Canada and collaborated with artists that he raised on his latest album, including Alex Cuba, Bahamas, Basia Bulat, Ron Sexsmith and Terra Lightfoot. When he visited the House Of Strombo to join the epic Barenaked Ladies' session, he slung his guitar upstairs to revel in the incredible history of his career from the origins of his show to attending school with Neil Young, the transformative family process through divorce and he delivers a Doc Watson cover.
"The most important thing to me in any kind of music is surprise." Sting + Shaggy sat down with George at New York's Reservoir Studios, the headquarters of their collaborative project, 44/876. In conversation, the two legends unravel the story behind the surprise, their first meeting, the modern definition of reggae, the essence of a good song, how age changes the approach, the value of music as a societal influence in political times, their personal experience as immigrants to America, the eternal influence of Bob Marley, how to plant the seeds of a revolution, artists controlling the "gateway to cool", insecurities in their songwriting, and their mutual appreciation of Kendrick Lamar.
We celebrate the life and music of Grateful Dead's Jerry Garcia to remember the day that his final ashes were scattered at the Golden Gate bridge in San Francisco. Through some of the most treasured covers of his expansive
catalogue; Lucinda Williams to Cracker, Elvis Costello to Patti Smith – it's a long strange trip of musical bliss.
We'll deliver 3-hours of uninterrupted music for music lovers by music lovers, including premieres of new music from Beatrice Deer, Bossie and iLLvibe.
Magnificent 7
7

Supaman, "Godly Warriors (Ft. Passionate MC)"

6

Elisapie, "Wolves Don't Live By The Rules"

5

Fanny Bloom, "Petit Bois"

4

Anemone, "Baby Only You + I"

3

Bossie, "Post Teen"

2

Beatrice Deer, "My All To You"

1

iLLvibe, "Wokelahoma"
Playlist
The Beatles, "Tomorrow Never Knows / Within You Without You"
REZZ, "Relax"
Supaman, "Godly Warriors (Ft. Passionate MC)"
Elisapie, "Wolves Don't Live By The Rules"
Fanny Bloom, "Petit Bois"
Pierre Kwenders, "Makanda (Ft. Ish aka Palaceer Lazaro & SassyBlack)"
Talking Heads, "This Must Be The Place (Naive Melody)"
Anemone, "Baby Only You + I"
Norma Tanega, "You're Dead"
Félix Dyotte, "Je Cour (Ft. Evelyne Brochu)"
The Police, "King Of Pain"
Sting & Shaggy, "Morning Is Coming"
Sting & Shaggy, "Waiting For The Break Of Day"
Burning Spear, "Father East Of Jack"
Shaggy, "It Wasn't Me"
Bossie, "Post Teen"
Beatrice Deer, "My All To You"
iLLvibe, "Wokelahoma"
Ministry, "I Wanted To Tell Her"
David Bowie, "China Girl"
Irene Cara, "Flashdance… What A Feeling"
Bryan Adams, "Cuts Like A Knife"
Stevie Nicks, "Wild Heart"
Roxy Music, "More Than This"
Scarlett Johansson, "I Don't Want To Grow Up"
Brigitte Bardot & Serge Gainsbourg, "Bonnie and Clyde"
Fred Penner, "I Hear The Music (Strombo Sessions)"
Fred Penner, "Deep River Blues (Doc Watson cover) (Strombo Sessions)"
Paul Simon, "Allergies"
Grateful Dead, "Dark Star (Live)"
Lucinda Williams, "Going Down The Road Feelin Bad" The War On Drugs, "A Touch Of Grey"
Patti Smith, "Black Peter (Live)"
Courtney Barnett, "New Speedway Boogie"
Cracker, "Loser (Garcia Cover)"
Elvis Costello, "Ship of Fools / Must Have Been The Roses"
Grateful Dead, "And We Bid You Goodnight"