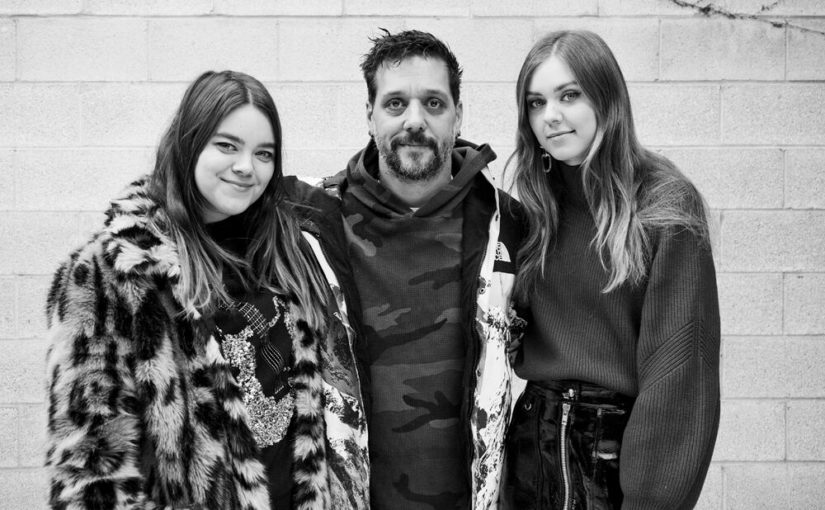 First Aid Kit, Paul Shaffer + Twist
First Aid Kit's Klara and Johanna Söderberg return with their fourth album, "Ruins" born in some self-described millennial restlessness, time away and a series of collaborations with members of R.E.M. and Wilco. In conversation with George, the sisters unravel the process of returning, modern femininity and the choice to have their father behind the sound boards on the road.
Paul Shaffer is best known as Letterman's right-hand musical force, but it doesn't end there – he dedicates his time to countless charities, wrote "It's Raining Men", turned down the offer to be George Constanza on Seinfeld, and is the man responsible for the Blues Brothers band. The list goes on. Shaffer calls George from New York to dig into his relationship with the Blues Brothers, his project with Toronto's CAMH, reminisces about that iconic Godspell production and what next for the icon.
Twist is multi-instrumentalist and producer Laura Hermiston. She took a moment from preparing her next album with Holy Fuck's Brian Borcherdt to rip through a few songs in the House Of Strombo, following her charming cover of Wham!'s "Last Christmas" on our Holiday special.
We'll deliver 3-hours of uninterrupted music for music lovers by music lovers, including premieres of new music from Zoe Sky Jordan.
Magnificent 7
7

Cut Chemist, "Moonlightin' With Biz (Ft. Biz Markie)"

6

Belle And Sebastian, "There Is An Everlasting Song"

5

Zoey Sky Jordan, "Blondie"

4

Courtney Barnett, "Nameless, Faceless"

3

Young Fathers, "Holy Ghost"

2

Little Destroyer, "Little Destroyer"

1

Thunderpussy, "Velvet Noose"
Playlist
The Killmonger, "Ludwig Goransson"
The Clash, "White Riot"
Cut Chemist, "Moonlightin' With Biz (Ft. Biz Markie)"
Belle And Sebastian, "There Is An Everlasting Song"
Zoey Sky Jordan, "Blondie"
Candi Staton, "Do Your Duty"
Baby Bird, "You're Gorgeous"
The Velvet Underground, "Sunday Morning"
Kamasi Washington, "The Magnificent Seven"
Nico, "These Days"
Courtney Barnett, "Nameless, Faceless"
Young Fathers, "Holy Ghost"
Mobb Deep, "The Learning Burn"
Twist, "Going Home"
Twist, "Going Home (Strombo Sessions)"
Led Zeppelin, "Black Dog"
Wu-Tang, "Lesson Learn'd (Ft. Redman, Inspectah Deck)"
Little Destroyer, "Little Destroyer"
Dr. Octagon, "Area 54"
GNA, "No Hook"
Thunderpussy, "Velvet Noose"
First Aid Kit, "Fireworks"
First Aid Kit "It's A Shame"
First Aid Kit, "King Of The World"
Talking Heads, "Once In A Lifetime"
First Aid Kit, "Postcard"
Booker T. & The M.G.'s "A Woman, A Lover, A Friend"
The Blues Brothers, "Hey Bartender (Live)"
The Blues Brothers, "Messin' With The Kid"
Paul Shaffer + The World's Most Dangerous Band, "Sorrow (Ft. Jenny Lewis)"
Paul Shaffer + The World's Most Dangerous Band, "Happy Street (Ft. Bill Murray)"
Paul Shaffer + The World's Most Dangerous Band, "Win Your Love (Ft. Dion)"
Jackie Mittoo, "Loving You"
The Blues Brothers, "Everybody Needs Somebody To Love"
The Blues Brothers, "Soul Man"
The Blues Brothers, "I Don't Know (Live)"
The Blues Brothers, "Closing: I Can't Turn You Loose (Live)"
Pink Floyd, "Keep Talking (Live)"
Agnetha Fältskog, "If I Thought You'd Ever Change Your Mind"