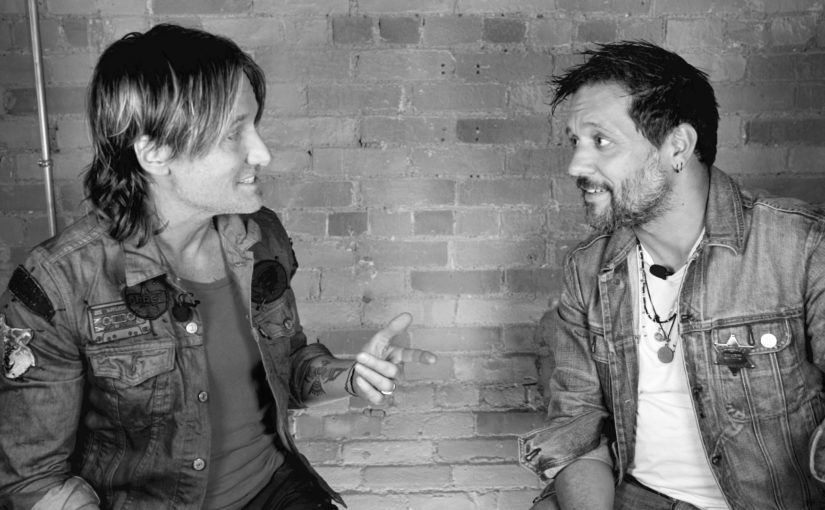 Daniel Lanois & Venetian Snares, Keith Urban + Milk & Bone
Daniel Lanois and Aaron Funk of Venetian Snares are a dream team with a shared "appetite for the unknown." With Lanois on pedal steal and Funk on the drum machines, the two illustrate different corners of the musical landscape. What started as mutual respect between the two Canadian artists led to many years of creative germination, resulting in an eight-track full-length self titled exploration released May 4th of this year. They bring their "melange of gospel and electronica" to the House Of Strombo to play for a small audience and talk to George about their friendship, their creative process and inspirations, and that's not all. They only made the power go out twice!
Keith Urban, singer, songwriter, multi-instrumentalist, and producer, is unstoppable. With his ninth studio record, Graffiti U, Urban continues to follow his curiosity. He meets with George at a Live Nation session celebrating Graffiti U to discuss where the passion behind the songs come from, the many collaborators featured on the album, and where his head's at.
Milk & Bone is made up of two best pals from Montreal, Laurence Lafond-Beaulne and Camille Poliquin. After taking Jazz in school, they decided to take a different path together and create their own music, which can be described as electro-pop. Their melodies are both dreamy and harrowing and are backed up by electronic textures and layered synths. Their mesmerizing melodies explore the darker aspects of love, friendship, and lust. Their debut album "Little Mourning" had been a major success. They stop by the House Of Strombo in midst of a tour to share their beautiful music.
We'll deliver 3-hours of uninterrupted music for music lovers by music lovers with exclusive song premieres from Megan Nash and Ralph.

Magnificent 7
7

Michael Rault, "New Day Tonight"

6

FRANKIIE, "Dream Reader"

5

Jai Nitai Lotus, "Alice Peace II"

4

Megan Nash, "Lavender & Leather"

3

Jo Passed, "MDM"

2

Bad Waitress, "Let's Get Fucked Up"

1

Bad Waitress, "What Do I Want?"
Playlist
Roky Erickson, "The Night Of The Vampire"
The 13th Floor Elevators, "You're Gonna Miss Me"
Johnny Cash, "Won't Back Down"
The Blaze, "Territory"
Spacehog, "In The Meantime"
Michael Rault, "New Day Tonight"
WOODS, "Spring Is In The Air"
FRANKIIE, "Dream Reader"
Jai Nitai Lotus, "A'Round Spring"
Jai Nitai Lotus, "Alice Peace II"
Brian Jonestown Massacre, "The Ballad of Jim Jones"
Milk & Bone, "Nevermore" (Strombo Sessions)
Milk & Bone, "Deception Bay" (Strombo Sessions)
Florence + The Machine, "Kiss With A Fist"
Guns N' Roses, "You Ain't The First"
Outkast, "Roses"
Ras Denroy Morgan & The Black Eagles, "His Majesty's Speech On Religion"
Daniel Lanois + Venetian Snares, "Night" (Strombo Session)
Daniel Lanois + Venetian Snares, "Machine" (Strombo Sessions)
Daniel Lanois + Venetian Snares, "New Planet" (Strombo Sessions)
Tears For Fears, "Pale Shelter"
The White Stripes, "Black Math"
Jo Passed, "MDM"
Hollerado, "Grief Money"
Bad Waitress, "Let's Get Fucked Up"
Bad Waitress, "What Do I Want?"
INXS, "Mediate"
Tom Waits, "Another Sucker On The Vine" -
Tom Waits, "San Diego Serenade"
Robert Johnson, "Crossroad Blues"
Howlin Wolf, "Killing Floor"
Rolling Stones, "Respectable"
Keith Urban, "Coming Home"
Keith Urban, "Parallel Line"
Megan Nash, "Lavender & Leather"
Ralph, "Girl Next Door"
Treble Charger, "Red"
Spiritualized, "Ladies and Gentlemen We Are Floating In Space"
REM, "Nightswimming"
Frank Sinatra, "That's Life"
Frank Sinatra with Tommy Dorsey And His Orchestra, "I'll Be Seeing You"
Frank Sinatra, "In The Wee Small Hours Of The Morning"