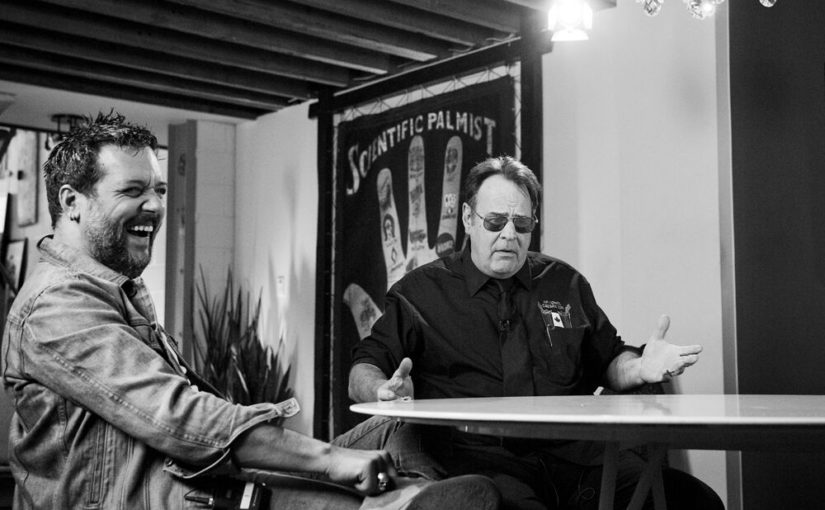 Allan Rayman, Dan Aykroyd + Lissie
Allan Rayman is an enigmatic man whose career has thrived off the "mysterious" with a minimalist approach to media, social interaction and counter to most norms of today's industry conventions. In a rare conversation, he sits down for an acoustic moment with George to reveal his story, his origins and cover The Wallflowers.
Dan Aykroyd is a Blues Brothers, a Ghostbuster, an OG member of Saturday Night Live, and his current life chapter revolves around his entrepreneurial spirits. He sits down with George to explore the power of luck, the beginnings, his motorcycle adventures, the art of political satire, the war on drugs, the potential of a 'Trading Places' remake, the supernatural and seances in his family farmhouse.
Lissie, from the blue-collar Midwestern riverside and the granddaughter of an international barbershop quartet champion, went west and established her name through cafes, festivals and melodies over the past decade. She recently released a stripped-back sound with 'Castles' and visits the House Of Strombo to deliver those songs and the stories behind.
We celebrate the life and song of Saint Bruce Cockburn on his 73rd birthday through covers of his work, recorded in the House Of Strombo, performed by friends of the show, Barenaked Ladies and Hawksley Workman.
Magnificent 7
7

NEFE, "Minute"

6

Wampum, "Peyote (Sister Mantos Remix)"

5

​Topaz Jones, "Pleasure Pain Passion"

4

Yellow Days, "Gap In The Clouds"

3

Simian Mobile Disco, "Caught In A Wave"

2

MorMor, "Whatever Comes To Mind"

1

Allan Rayman, "13"
Playlist
Bruce Cockburn, "Wondering Where The Lions Are"
Hawksley Workman, "Call It Democracy (Bruce Cockburn Cover) (Strombo Sessions)"
Barenaked Ladies, "Lovers In A Dangerous Time (Bruce Cockburn Cover) (Strombo Sessions)"
NEFE, "Minute"
Wampum, "Peyote (Sister Mantos Remix)"
A Tribe Called Quest, "Check The Rhime"
Minnie Riperton, "Baby, This Love I Have"
MorMor, "Whatever Comes To Mind"
Lissie, "Best Days (Strombo Sessions)"
Lissie, "Blood and Muscle (Strombo Sessions)"
The Shangri-Las, "Dressed In Black"
​Topaz Jones, "Pleasure Pain Passion"
Yellow Days, "Gap In The Clouds"
Simian Mobile Disco, "Caught In A Wave"
The Books, "You'll Never Be Alone"
Gowan, "A Criminal Mind"
Hugh Masekela, "A Felicidade"
Allan Rayman, "13"
Allan Rayman, "13 (Strombo Sessions)"
Allan Rayman, "Gun (Strombo Sessions)"
Allan Rayman, "One Headlight (The Wallflowers Cover) (Strombo Sessions)"
Brian Jonestown Massacre, "Anenome"
Tom Waits, "Just Another Sucker On The Vine"
Tom Waits, "Ol' 55"
Ray Parker Jr., "Ghostbusters"
The Blues Brothers, "Hey Bartender (Live)"
The Blues Brothers, "Everybody Needs Somebody To Love"
The Blues Brothers, "Messin With The Kid (Live)"
The Blues Brothers, "Theme From Rawhide"
The James Hunter Six, "(Baby) Hold On"
Junior Wells, "Gone To Main Street"
The Tragically Hip, "Fully Completely"
Dorothy Ashby, "The Moving Finger"
Jefferson Airplane, "Embryonic Journey"
Chris Bell, "Speed Of Sound"