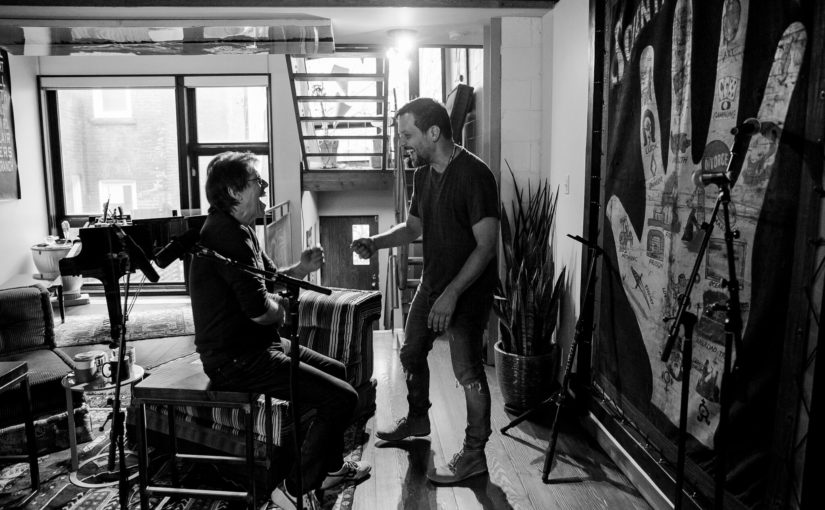 Alice In Chains + George Thorogood
Alice In Chains are on of the big four kings of Seattle. They've returned this week with trumpets blaring to reveal that their first album in five years will drop later this year. As one of the most commercially successful crew of the nineties, there's stories to explore from having to request their childhood idol Eddie Van Halen to leave their dressing room to embracing the past. In an exclusive conversation, all four members join George in the House Of Strombo.
George Thorogood is the Satan of Slide and after 40-years with his faithful Destroyers, he has chosen to release his first solo album. With an acoustic guitar on his knee, he delivers his biggest songs and revels in personal stories of blues and baseball lore with our own George.
We'll deliver 3-hours of uninterrupted music for music lovers by music lovers, including premieres of new music from Ben Caplan, Dana Sipos, Jules, MEGATIVE and Michael Rault,
Magnificent 7
7

Princess Nokia, "For The Night"

6

Sango, "Life WIthout God Is Nothing"

5

Ice Age, "The Day The Music Dies"

4

Michael Rault, "New Day Tonight"

3

Moscow Apartment, "Annie"

2

Ben Caplan, "Plough The Shit"

1

Jeremy Dutcher, "Pomok naka Poktoinskwes"
Playlist
Gene WIlder, "Pure Imagination"
Elton John, "Rocket Man"
William Shatner, "Rocket Man (Live)"
Princess Nokia, "For The Night"
Sango, "Life WIthout God Is Nothing"
Daft Punk, "Robot Rock"
Breakwater, "Release The Beast"
Jules, "Before You Picked Her"
Ice Age, "The Day The Music Dies"
Sky Ferreira, "You're Not The One"
Rosebud, "Interstellar Overdrive (Pink Floyd Cover)"
Michael Rault, "New Day Tonight"
The Band, "Tears Of Rage"
Dana Sipos, "Windsong"
Skatt Bros, "Walk The Night"
Bette Davis in "All About Eve"
Kim Carnes, "Bette Davis Eyes"
The Black Beats, "The Mod Trade"
Bob Dylan, "Desolation Row (Take 2, Piano Demo)"
Bob Dylan, "Desolation Row"
MEGATIVE, "Have Mercy"
Moscow Apartment, "Annie"
Usha Khanna, "Hotel Incidental Music"
George Thorogood, "Bad To The Bone"
George Thorogood, "One Bourbon One Scotch One Beer (Strombo Sessions)"
George Thorogood, "I Drink Alone (Strombo Sessions)"
George Thorogood, "Move It On Over (Strombo Sessions)"
Tom Waitsm "Step Right Up"
U.S. Girls, "Velvet For Sale"
Osamu Kitajima, "Taiyo (The Sun)"
Ben Caplan, "Plough The Shit"
Alice In Chains, "Whale And Wasp"
Alice In Chains, "Man In A Box"
Alice In Chains, "The One You Know"
Van Halen, "You Really Got Me"
Alice In Chains, "Nutshell"
Jeremy Dutcher, "Pomok naka Poktoinskwes"
B.B. King, "Hummingbird"