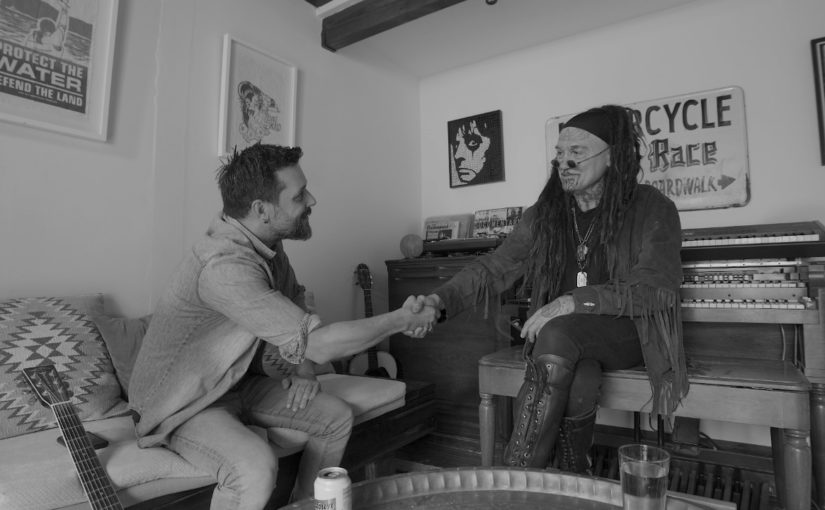 Al Jourgensen of Ministry, Alanis Obomsawin + Spike Slawson
Al Jourgensen once said, "I will stop making music. You just make it a nice little utopian world. All right? Then I'll shut the fuck up." As the long-serving frontman of the industrial monsters Ministry, Uncle Al's opinions have pulled punches on politics and conspiracies and beyond. His latest album AmiKKKant is a direct response to the disrespect of women in our society, the waning respect for the U.S. Constitution, the challenges of moral and ethic responsibility and "the man in the White House." In conversation with George from Topanga, Al dissects the return to Ministry, the #MeToo movement, holding the listener accountable, how he harnesses his anger, collaborating with members of NWA, learning to have fun with music, modern counter-culture from Parkland, the rebirth through personal sobriety and beyond.
Documentary filmmaker Alanis Obomsawin has created fifty films in her fifty year career, revolving around the Indigenous experience in Canada. The prestigious voice joined George for a conversation during the Toronto International Film Festival to celebrate her latest film, Our People Will Be Healed, songs that kept her going throughout her career, her own musical career and the intention of filmmaking: "For our people to have a voice."
Spike Slawson is known for his spectacular work as the manic frontman of Me First And The Gimme Gimmes, but he visits the House Of Strombo, armed with a ukulele to deliver some wonderful jams from his latest project: Uke-Hunt to cover Nancy Sinatra and Skeeter Davis.
Next in our series of celebrating icons while they're with us, we turn our attention toward the great Japanese mind, Haruomi Hosono. His work shaped many through film soundtracks, ambient albums, production and pioneering efforts on the synth. We dig through his archives and welcome shepherds of the next generation, Mappe Of and Twist, to perform their thoughtful versions of his biggest songs.
We celebrate the life and music of Kurt Cobain to commemorate the day that he was found at home, outside of Seattle. We'll revisit the sounds of his mind, female artists that he wore on his sleeve that influenced his work covering the work that influenced them – The Slits doing Marvin Gaye, The Breeders taking on The Beatles and The Raincoats' rendition of The Kinks.
We'll deliver 3-hours of uninterrupted music for music lovers by music lovers, including premieres of new music from Donovan Woods, Long Branch and Young Galaxy.
Magnificent 7
7

SHAME, "Tasteless"

6

Little Destroyer, "Little Destroyer"

5

Men I Trust, "Show Me How"

4

Helena Deland, "Take It All"

3

Buddy, "Black (Ft. A$AP Ferg)"

2

Long Branch, "ASH"

1

Young Galaxy, "Seeing Eye Dog"
Playlist
Nirvana, "Sliver"
The Slits, "I Heard It Through The Grapevine"
The Breeders, "Happiness Is A Warm Gun"
The Raincoats, "Lola"
Open Mike Eagle, "Split Pants In Detroit"
SHAME, "Tasteless"
SHAME, "One Rizla"
New Order, "Blue Monday"
Little Destroyer, "Little Destroyer"
Sudan Archives, "Water"
Ministry, "Anifa"
Ministry, "I Know Words"
Ministry, "We're Tired Of It"
MInistry, "Lay Lady Lay"
Ministry, "Stigmata"
Men I Trust, "Show Me How"
​Helena Deland, "Take It All"
Starcrawler, "I Love LA"
Buddy, "Black (Ft. A$AP Ferg)"
Lou Reed, "How Do You Think It Feels?"
Lou Reed, "Walk On The Wild Side"
A Tribe Called Quest, "Can I Kick It?"
Spike Lawson, "End Of The World (Skeeter Davis Cover) (Strombo Sessions)"
Spike Lawson, "Runaway (Del Shannon, Translated by Les Pirates) (Strombo Sessions)"
Me First & The Gimme Gimmes, "Rainbow Connection"
Tom Waits, "Red Shoes"
Electric Light Orchestra, "Telephone Line"
Nirvana, "In Bloom"
Long Branch, "ASH"
Young Galaxy, "Seeing Eye Dog"
Donovan Woods, "Easy Street"
Alanis Obomsawin, "Shibi (River Of Dreams)"
Amos Lee, "Arms Of A Woman"
Johnny Reid, "Today I'm Going To Change The World"
Haruomi Hosono + The Yellow Magic Band, "Shimendoka"
Twist, "Sportsman (Haruomi Hosono Cover) (Strombo Sessions)"
Haruomi Hosono, "Bio Philosophy"
Mappe Of, "Watering A Flower (Haruomi Hosono Cover) (Strombo Sessions)"